Here & There is a weekly-ish email from Kyle Frost about travel, the outdoors, and other stuff. If you've been enjoying these updates, please forward it to a friend, or share with your network. If you're reading it for the first time, consider subscribing (it's free!).
---
First, some recent new from this week and quick follow-ups re: recent newsletters, which was primarily about a coming diaspora from tech hubs to smaller towns.
Twitter announced this week that employees will be able to WFH permanently if they choose — the largest company thus far to fully embrace changes many are seeing as inevitable.

Bill Gurley, an investor at Benchmark Capital, tweeted a few of his thoughts about hospitality/travel in the coming months (I don't think he reads this newsletter, but we're clearly on the same page 😂).

I listened in on a great livestream with Brianne Kimmel of worklife.vc and Sam Lessin about the future of remote work. Topics ranged from how the structure of teams will operate in a distributed workforce to the risks of going fully remote without being prepared. I was most interested in the discussion around "community" moving out out of the workplace and back into neighborhoods — which ties in nicely to some of my previous thoughts.
---
First, I want to address some feedback I received after last weeks newsletter (thanks Erica!). I think it's important to distinguish between remote work and digital nomads in the context of the future of travel/where folks live.
Remote work is simply that — working remotely. This might be from a home office, a co-working space, or a coffee shop, but basically, you're just not going in to a centralized office.
Digital nomads are typified by frequent travel and the lack of a true "home base". While ranging in age overall, an archetypal nomad is typically between 20-30 years old and single. They're often attracted to areas with low cost of living, good internet, and access to "nomad" communities around the world. Hotspots include places like Chaing Mai, Bali, Medellin, and Mexico City. Nomad List is a popular tool for finding where to head next, as well as a paid chat group for questions and connecting with other travelers. Hospitality companies like Selina popped up to serve this transient workforce — delivering a place to stay and a place to work.
Much of the press coverage pre-COVID regarding remote work centered on digital nomads. You've seen the articles. Probably a title like "The World is my Office" with a photo of a 20-something developer on a laptop at the beach in Bali.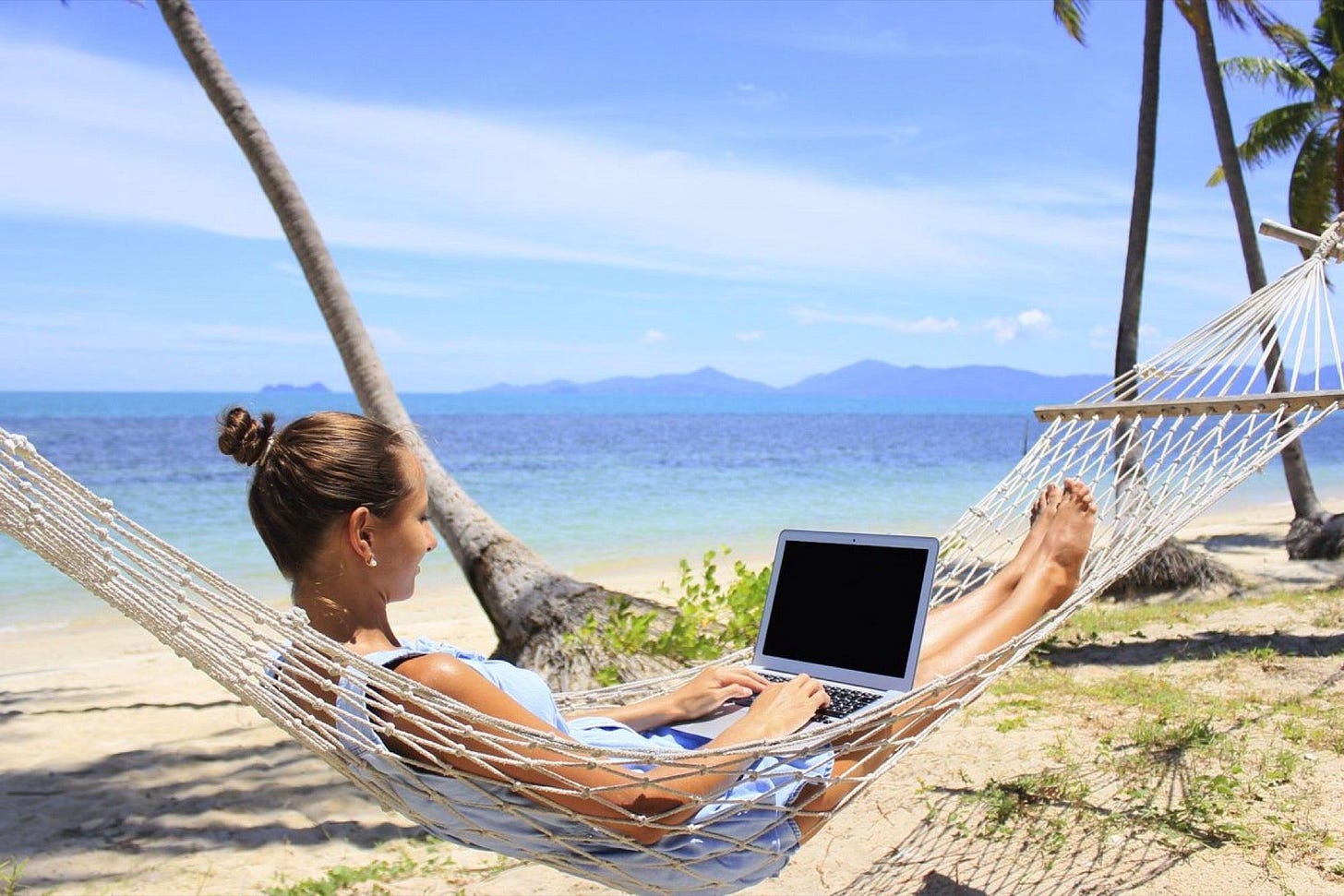 The future of work is remote, not nomadic.
I expect a significant increase in digital nomads as travel re-opens back up, and this will have a positive economic impact in many destinations across the globe. But it's simply not a lifestyle that is likely to work for a large percentage of the workforce. Why?
It takes a particular personality. If you're moving around, there are logistics around where to live, where to work, and finding local community, etc. The most I've traveled at once was 3 months, and after a while you start to miss stability, consistency, and friends.

It's extra hard/impossible for folks with families. There's a reason why most nomads are in their 20's and single.

Timezones. While I'm a firm believer that work will become more asynchronous, it's still much harder to work with someone halfway across the world than someone a few hours ahead or behind.
This is why I'm so bullish on small (or just non tech-hub) towns being able to attract new residents and reinvent themselves. People will still want stability and community. I think there's a natural tie-in with the livestream discussion I mentioned above — what we're about to see is people choosing their communities again.
Prior to COVID, much of your community was dominated by your workplace. Your workplace defined who you spent most of your time with, as well as where you lived. Even in just the short time we've been in lockdown/isolation, I've personally had more conversations with my neighbors than in the last few years.
I think there's additionally an opportunity to reinvent what a "workplace" means in regards to community. I think with the migration to smaller towns and increase of remote work there could be a market for a company/service to facilitate "micro-coworking" — shared workspaces organized around friends or people you want to be around, not necessarily coworkers.
I did exactly this with a few friends in Boulder. We leased a warehouse space with 10 full time folks, although not everyone is ever there at the same time. We're mostly designers, photographers, filmmakers, and wanted a space that wasn't our home offices or local coffee shop. It ended up being significantly less expensive than a "big box" co-working space as well. There's an opportunity here for local gov to either facilitate these types of spaces or a company to emerge to handle some of the nitty-gritty. There's some weirdness with how to pay rent/insurance/taxes etc. Nobody really wants to be "running" a co-working space. Lotta trust and "good faith" situations.
---
What else?
Say what you will about Walmart, but they recently launched a line of backpacking gear — with the goal of making outdoor participation more accessible by lowering the (often considerable) cost barrier. And apparently the gear is…actually pretty good.

I'm not much of a long-distance biker, but I really enjoyed this film from Salsa Cycles.

I'm working on some resources for local tourism around effective web design, communication around remote work, and more. If you know of one that has a particularly ineffective website, or have any suggestions, let me know!
---
Stay safe, stay healthy. As always, feel free to reach out with ideas, feedback, or stuff you think I should talk about via email, Instagram, or Twitter.
If you liked this, it'd mean a lot to me if you'd share it with someone else would enjoy getting this in their inbox. Forward it to a friend!
Cheers,
Kyle