Here & There is a weekly email from Kyle Frost about travel/tourism, remote trends, and other stuff. If you've been enjoying these updates, please forward it to a friend, or share with your network. If you're reading it for the first time, consider subscribing (it's free!).
---
A few folks have asked me about the gear I use. There's no shortage of articles about the "top gear of the season" or folks free stuff to say they love whatever the latest and greatest gear is. The reality? Most gear these days is…pretty dang good. You end up splitting hairs about whether it's great for this or that specific scenario, but in general, most outdoor companies are making excellent gear. So, here are a few things I find myself in that I actually use *all the time*. I'm going to end up linking to this season's products, but in most cases the stuff I have is several seasons old (because I love it).
Apparel
Prana Mojo Shorts - I use these as running shorts, river shorts, hiking shorts, and walk around town shorts. They're great for everything in the summer and mine are probably 4 years old now.
Saxx Kinetic Briefs - Switched over to Saxx a few years ago and haven't looked back.
Prana Brion Pants - A great hiking/travel pant. While I don't hike in these a ton in the summer, they're a great evening pant.
Black Diamond Alpenglow Hooded Shirt - This is more of a sun-layer; I wear it often in the mornings while hiking, on the river, and as an quick extra layer.
Black Diamond Stormline Stretch Rain Jacket - A packable, no-nonsense rain jacket. Pretty necessary here in Colorado where thunderstorms can happen anytime in the summer, but I also put it to the test in torrential Alaska rain a few summers ago.
Shirts - honestly, I mostly wear a bunch of cheap t-shirts that I've acquired for free, mostly at Outdoor Retailer. I think I own one "running" shirt from Nike that's like 5 or 6 years old, and a Columbia "tech" hiking shirt that's going on probably 10 years (no joke, I've tried to figure out what it is but product lines have changed so much).
Socks - Literally anything. Cheap socks with fun designs from Marshalls are a common sight on my feet.
Shoes
Chaco Chromatic Z/1 - These are classic Chacos, and what I wear every waking moment if I'm not running or biking. I have the Chromatic solid-color version, which everyone seems to comment on.
HOKA EVO Speedgoat and Torrent - The style of HOKA shoes isn't for everyone, but I'm a fan. I trail run in both, and the Torrent tends to be my "hiking" shoe of choice these days.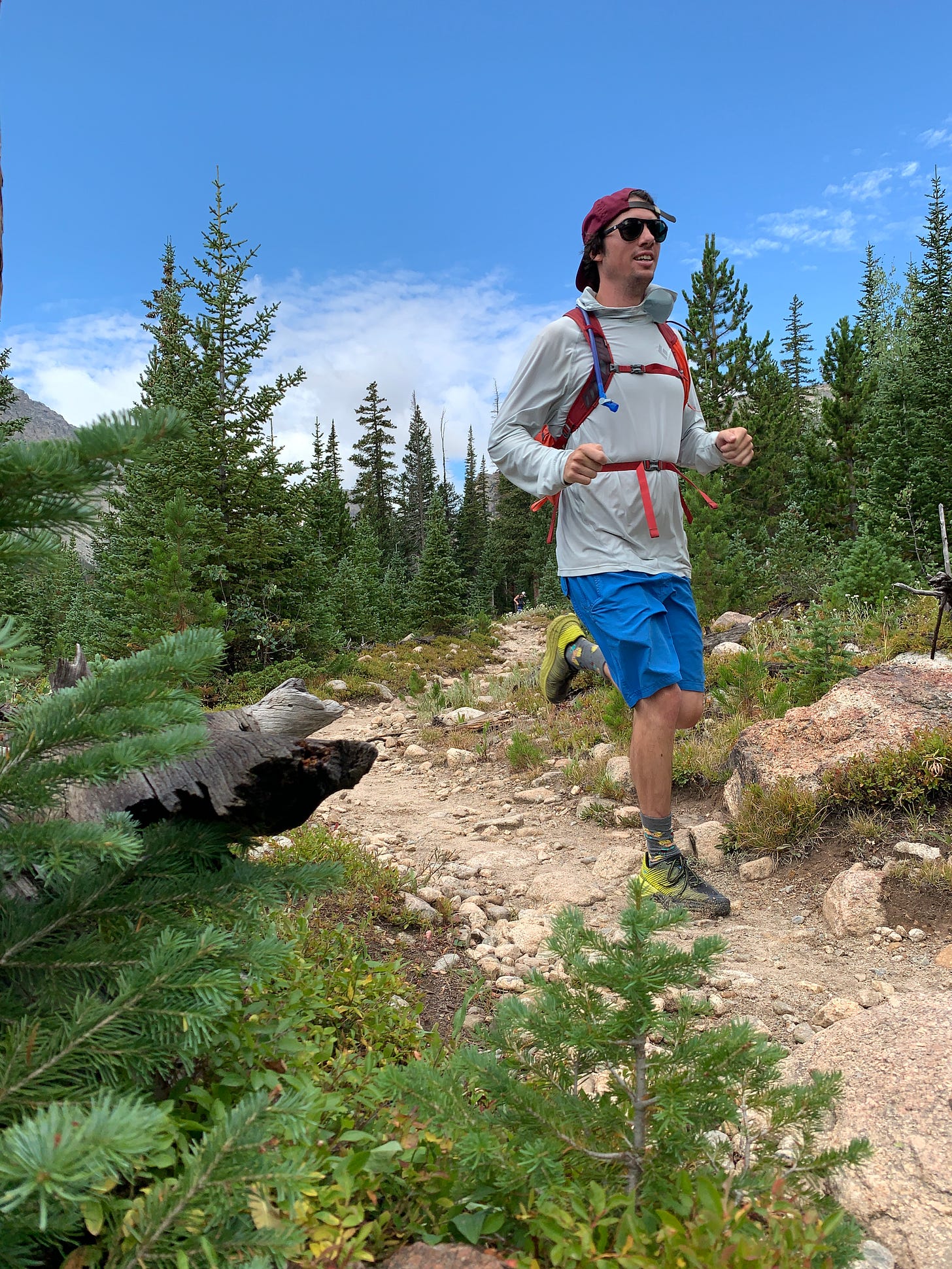 Equipment
Thule Stir 18 Backpack - Mine is several years old, and it looks like they've changed the style quite a bit. But I use mine for biking around town, longer MTB rides, and hiking. I rarely use anything larger in the summer.
InReach - I've never actually had to use this, but I have set it off accidentally once…whoops. Regardless, worth the cost and subscription to have peace of mind in the backcountry.
Goodr Polarized Sunglasses - Simple, reasonably priced sunglasses.
Photo Stuff
Sony A7rii - Yeah, I know the iv is out now, but honestly I doubt I'll ever need more camera than this. Unless you plan on blowing up your photos to skyscraper size, you don't need most of the features and resolution offered by the latest and greatest.
Sony Zeiss 24-70mm 2.8 GM - My favorite, most versatile lens.
Samyang 35mm 2.8 - For when I want to carry my camera, but keep it more compact.
---
Around the web
Time to Take Action - "My work is truly visibility. To take up as much space as I can with the art form of drag when I need to do it, and then knowing when I need to peel away all that space and take up the least amount of space possible, so that people can just show up and have the conversations that need to be had." - Intersectional Environmentalist, Pattie Gonia
A Deafening Sky - A great story/photo essay about exploring the Cairngorm mountains via mountain bike.
---
Stay safe, stay healthy. As always, feel free to reach out with ideas, feedback, or stuff you think I should talk about via email, Instagram, or Twitter.
If you liked this, it'd mean a lot to me if you'd share it with someone else you think might like enjoy getting this in their inbox. Forward it to a friend!
Cheers,
Kyle